The Landing Page Defining the look of your digital rewards (Part 1/2)
Overview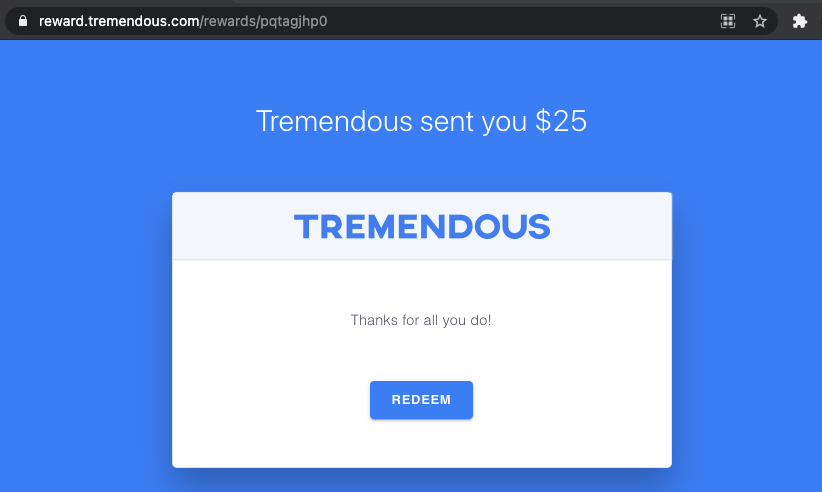 The landing page, the webpage a recipient visits to redeem their reward, is one component of a digital reward's visual presentation. You can customize the landing page when editing a Campaign Template.
---
Customizable Properties
On the Design your rewards page when editing your template, click Edit your webpage to customize the following properties:
Logo (Optional)
Add your organization's logo and set its height in pixels. Because the background color of where the image sits is gray, we recommend you upload a PNG version of your logo that has a transparent background.
Background Color
You can change the color of the background to match your logo (or to be whatever color you want it to be!) – this will change the background color of the webpage as well as the Redeem button.
Company Name
Regardless of what the name of your Tremendous team is, you can customize your company name in the template. The recipient will only see the name that you set here (e.g. "Tremendous" in the screenshot above).
Message
When customizing your message, you can include custom fields that will adjust depending on the recipient. For example, let's say your template message is set to "Hi !"
John Smith's reward will read "Hi John Smith!"

Sarah Lee's reward will read "Hi Sarah Lee!"
---
Add More Steps
On the Design your rewards page when editing your template, click Add more steps to optionally add any of the following:
Pop-up
Add a message for your recipients where you can add text, images, and links.
Video
You can add a video from YouTube, Vimeo, or Wistia.
Redirect
The order of the other steps can be changed, but a redirect must be the last step of the redemption flow. After a recipient has redeemed their reward, you can redirect them to another webpage.