You can add recipients in two ways:
Upload a spreadsheet (recommended)
Add recipients manually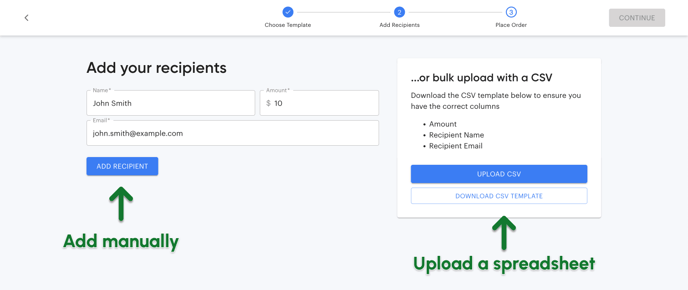 Upload a spreadsheet (recommended)
Even if your recipient list is short, we recommend uploading a spreadsheet in case your order is unsuccessful and you need to try again.
Click Download CSV template. Using the template ensures that the columns are formatted correctly.
Edit the template in your spreadsheet software of choice.
Save the file in CSV format.
Upload the file to Tremendous.
Team admins: you can add and customize reward fields for tracking, reporting, and personalization. The CSV template and recipient form will automatically update to match your settings.
Add recipients manually
Simply fill out the form on the left side of the page and click "Add Recipient".
Review recipients
After you add recipients, they'll appear as a table. You can add, edit, delete, or preview each recipient's payment.